Location
Welcome to the conservation lands of Oyster Pond Environmental Trust (OPET) Comprising the Headwaters of Oyster Pond & Zinn Park!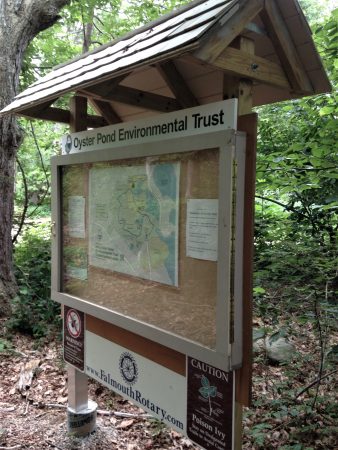 Please enjoy our trails on nearly 30 acres of wetlands, woodlands, vernal pools and pond shoreline. There is much to see and do. Keep an eye and ear out for a scarlet tanager.  Look for deer tracks.  Listen for peepers near the vernal pools in the spring.  See lady slippers and star flowers burst into bloom before the trees leaf out.  Smell the fragrant scent of summersweet or Clethra alnifolia in the late summer. Enjoy the bright colors of the red maples in the wetlands in the fall.
There is a nearly 1 mile long loop trail through the heart of the properties. The trailhead and a kiosk with trail maps is located at the end of Fells Road in Falmouth.  Use the address 60 Fells Road for GPS directions.  There is parking for three cars plus room for spillover parking.
Think back a hundred years ago and imagine this land without trees. After European settlers arrived on Cape Cod, land was cleared for ship building, farming and grazing. It was only after those activities faded about a century ago that saplings were allowed to grow into the forests we see today. Look closely and you will see traces of how this land was used in the past. Near the ancient linden tree there is the foundation of a building…a cow barn perhaps? The remnants of criss-crossing stone walls marked property boundaries. Look for fading cart pathways that may have been used to haul glacial boulders for sea walls and buildings that may still be standing today.