Many thanks go out again to Chuck Martinsen, Deputy Director of the Town of Falmouth Marine and Environmental Services!! He coordinated the huge effort to have the Lagoon dredged in the first week of February. Not only was the blockage in the Lagoon stopping the inflow of salt water from the Sound, but also the passage of herring and other migrating fish. Chuck secured permission from the Conservation Commission, worked out the funding and assistance from the DPW and hired Chip Schultz to do the work.
What a huge job this turned out to be! It took a week to set up the equipment, do the job, dissemble everything and clean up the area.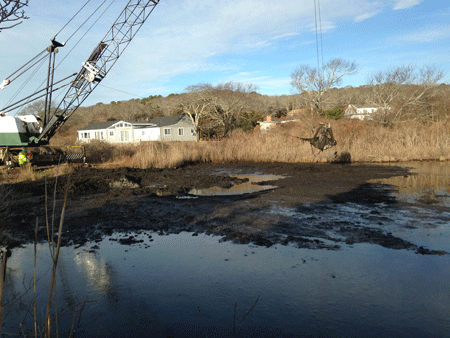 At least 750 cubic yards of muck were dredged from the Lagoon. And muck it was. The constituency was like chocolate pudding, but much smellier. There was a strong sulfur smell the entire time from the rotting eelgrass.
It was multi stepped process to do this. First a dragline scooped the sludge to the edge of the Lagoon. Then a clam-shell bucket pick up the much and dumped into trucks. The trucks dumped the gunk at the edge of the Trunk River parking lot to dry out. This is so the dump trucks would not be leaking the smelly load all over Falmouth's roads.
The next day a front loader scooped up the drier gunk into a Falmouth DPW dump truck. It was then hauled up to the Town's compost/leaf dump facility. This nutrient rich stuff will be great for your gardens!
Whew, what a huge amount of work and we are so thankful for the Town's investment in this effort!
The good news is that we are seeing an increase in the salinity levels in the Lagoon and the weir area. We are hopeful the spring high tides will bring in even more salt water into the pond.
Lagoon Dredging Feb. 2, 2017 from OPET on Vimeo.